HOW TO SETUP THE IPTV ON YOUR DEVICE
I need help to setup the IPTV on my device , can you help?
Yes, of course ! We send you instructions with a message of how to install easily for all kind of devices ( firestick ios ect .. ) Or contact us and we will help you with anything
Contact Us
Flix IPTV is an IPTV player like Smart IPTV but more stable that allows you to stream content. The application does not offer its own content, so you need to have a playlist or a m3u link, i.e. an IPTV subscription.
Flix IPTV is an interesting and stable application, even with big playlists, which is surely worth using on your Smart TV.
Flix IPTV Features
Flix IPTV offers a variety of useful features. The features listed below can be found by going to the application settings.
Multiple language support:
Users can choose from over 17 languages. Just go to Settings and select "Change Language".
Several themes:
Don't like the default Flix IPTV theme? You can choose a new one by going to Settings, then Change Theme.
Support for external players:
You can select MX Player and VLC Player as external players in the application. Go to Settings, then select External Players.
* This option is available for Android and iOS devices.
Customize subtitles:
It is very rare that an IPTV player offers subtitle customization. Flix IPTV is one of those few apps. Go to Settings, then Subtitle Settings to change the size, color and background of your subtitles.
Other features of Flix IPTV include creating lists of favorites, changing servers or lists since it supports adding multiple playlists, hiding specific categories of content in channels or movies and series, etc.
Flix IPTV supported devices
Below you can find the list of devices on which you can install the Flix IPTV application:
Samsung Smart TV
LG WebOS
Android TV, Apple TV and Amazon Fire TV or FireStick.
Installing Flix IPTV is easy like any other application, just go to the application store and search for it by name on Smart TV or Android TV and Apple TV.
The application is not in the Amazon Apps store. You can install the app on your Fire TV device by typing flixiptv.cc/flix.apk in the Downloader app or in the URL field of your device's browser.
How do I setup Flix IPTV?
Now we show you how to setup your subscription on the Flix IPTV application using your m3u link.
1. Once the application is installed, launch it to have its mac address displayed on the screen.
If you didn't write the mac address, you can find it by going to the menu on the left, navigating to Settings and in the next menu, scroll to User Account.
2. Go to the link: https://flixiptv.eu/mylist
3. Fill in the requested informations, the mac address and your m3u link then click on Send.
4. The last step is to restart the application or refresh the list on Settings > Change Playlist. A window will appear asking you to reload the list, click OK.
How do I activate Flix IPTV?
Flix IPTV is like other applications for Smart TV (SET IPTV, NET IPTV, Smart STB, …) it offers 7 days free trial, after that you will have to pay 7,99 EUR to activate it for life on a single device or TV.
Here is the link to the activation page: https://flixiptv.eu/activation
Our opinion on Flix IPTV
Flix IPTV is one of the best IPTV applications. It has a number of useful and rare features. Follow the steps above to start using it especially for Smart TVs.
From the home screen of your device, hover over the Find option.
2. Click Search.
3. Search for and select Downloader.
4. Choose the Downloader app.
5. Click Download.
6. Wait for the app to install.
7. Once the app finishes installing click Open.
8. Return to the home screen and open Settings.
9. Click My Fire TV.
10. Choose Developer options.
11. Click Install unknown apps.
12. Find the Downloader app and click it.
13. This will turn Unknown Sources to On for the Downloader app. This will enable side-loading on your device.
14. Launch Downloader.
15. Click Allow.
16. Click OK.
17. Type the following URL exactly as shown here: https://bit.ly/mainsmart and click Go.
18. Wait for file to download.
19. Click Install.
20. Click Done.
21. Open Iptv smarters then select Login with Xtream codes api.
 23. Enter the login details that we sent you via your email
Step 1: Start by downloading IPTV Smarters app from the Apple Store through this URL :
https://itunes.apple.com/us/app/iptv-smarters-player/id1383614816
or  you can search for it on App store
install the app on your IOS device.
Step 2: Open the app once downloaded and Enter the login details.
Step 3: Enter the login details that we have provided you after you get a subscription with us
Now Click on "ADD USER" to proceed to the next section.
Step 4: Wait some seconds.
Step 5: Now click on "Live TV" icon as depicted in the image via a red arrow.
Step 6: Now you must select the channel group that you want to watch and proceed to the next section.
Step 7: Now you must click on the channel name and then double click on the small screen to turn into full screen as the final step.
Step 8: To add EPG no need to add any EPG url, Just click on "Install EPG" .
Done
1. Make sure your MAC address was sent to us by email or whatsapp.

2. When the box is being loaded the main portal screen appears. After that click on "settings", press remote button "SETUP/SET".

3. Go to the Setting menu. Click on System settings and click on "Servers"

4. Select "Portals"

5. In the "Portal 1 name" line enter the name of sever LuXtream.

6. In the "Portal 1 URL" enter the portal address that we send it to you. Please double check all characte.

7. When all the operations listed above is done, then press "OK".

8. When all the steps listed above are done press"EXIT" 2 times on the remote control and restart the portal, Now everything is ready to start watching Live TV.
How to install and setup MyIPTV Player on Windows?
Here are the simple steps required to install My IPTV Player on Windows PC:
Step 1: Open Microsoft Store.
Step 2: Search "MyIPTV Player" in the search bar.

Search My IPTV Player
Step 3: You will find the MyIPTV application in the resultant page. Click on it.
Step 4: Click "Get" button to download and install MyIPTV.

Click Get
Step 5: Once installed, click "Launch" to open the app.
Click launch to open
Step 6: The MyIPTV Player will open.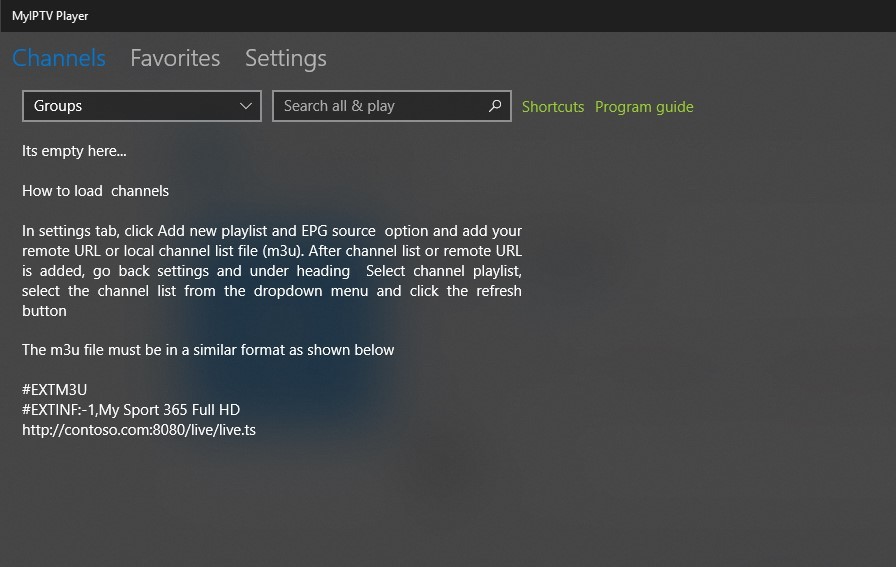 My IPTV Player
Step 7: Click on "Settings" tab on the application.
Step 8: Click "Add new playlist and EPG source" to add the playlist you have.

Add New Playlist
Step 9: Enter the name of the playlist and click "Select File" to select the file you want to add. After selecting the file, click "Add Local List".

Select File
Step 10: Then go back to the settings page where you will find the "Select Playlist Channel". Select the playlist and click "Refresh".

Click Refresh
Step 11: Now Click "Channel" tab on the top of the screen.
Choose a channel to Stream
The list of channels will appear. Choose the channel which you want to see and enjoy watching the shows in MyIPTV Player.
MyIPTV Player and Supporting Devices
Here are the devices which support MyIPTV Player:
Windows
Xbox One
Hololens
Windows Phones
1. This is instruction For Enigma 2/ Linux installation, you need install putty to use it.
Settings > Setup > System Network Device > Setup Adapter > Settings
And get your IP address it starts with 192.168….
2. Go to your windows PC and Download Putty Software.
3. Open Putty
4. Add your IP address of your Device.
5. Add Port 23
6. Click on open
7. Your default login and password are root
8. Copy your line ( you will get it after you order your subscription )
wget -O /etc/enigma2/iptv.sh "your m3u link" && chmod 777 /etc/enigma2/iptv.sh && /etc/enigma2/iptv.sh
9. RIGHT CLICK MOUSE BUTTON after you enter your line press ENTER
10. Type reboot and your device will restart.